Latina/o Faculty and Staff Association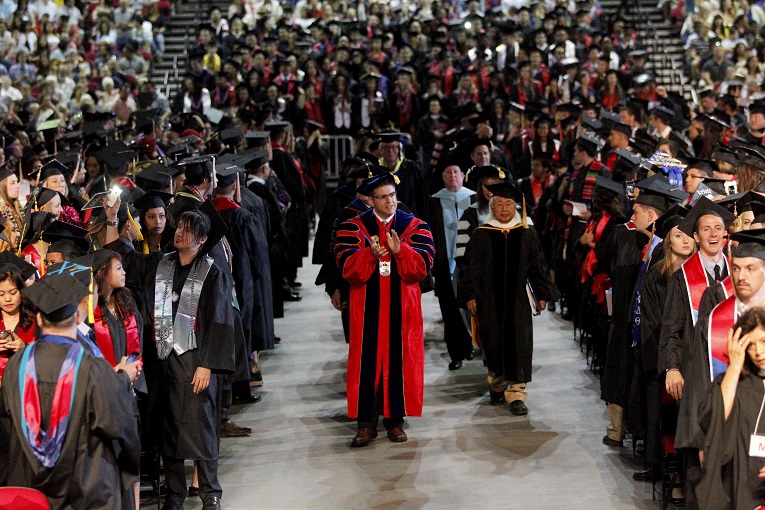 Bienvenidos
LFSA is committed towards advocating and supporting Latina/o faculty, staff and student issues at Fresno State.
Fresno State's Latino community
Students: Did you know that Fresno State is designated as a "Hispanic Serving Institution" by the United States Department of Education? In Fall 2019, 12,788 of our 24,139 enrolled students identified as Hispanic. That's 53 percent of our student population! These numbers make us eligible for federal grants and other programs aimed at strengthening Hispanic student success and, by extension, the success of our Valley.
Employees/faculty: As of Fall 2019, Latinos made up 579 (22.9 percent) of the university's 2,596 non-faculty employees. Of 1481 faculty positions, 210 (14.2 percent) are held by Latinos. (Data source: Office of Institutional Effectiveness).
COVER PHOTO: Fresno State President Joseph I. Castro leads the Class of 2013 marking the first time a Latino presided over Commencement in the university's 100-plus years of existence. With him is the California State University representative that year Dr. Hugo Morales, a member of the CSU Board of Trustees from Fresno. Trustee Morales is the founder of Radio Bilingue and as a professor in the Chicano Studies Program during its early years in the 1970s, was a pioneer of the La Raza Faculty and Staff Association that laid the groundwork for LFSA.
(Photo by Cary Edmundson).